VETERAN RACING WITH A PURPOSE
We Use Motorsports As A Vehicle To Tune The Mind And Soul of Our Transitioning Veterans
It is estimated that more than 700,000 combat veterans are struggling with some form of combat-related stress. That statistic combined with other deeply troubling ones around suicide, substance abuse, and violence-bear witness to the fact that most current strategies simply are not having their desired effect. However, recent studies have shown that military veterans that participated in group-based activities have increased their psychological well-being, social functioning, and life outlook.
The War Eagle Garage is a 501c3 nonprofit organization and meets the IRS Charitable Purpose Guidelines of relief of the poor, the distressed, and underprivileged, advancement of education and science, lessening the burdens of government, lessening neighborhood tensions, eliminating prejudice and discrimination, and combating community deterioration.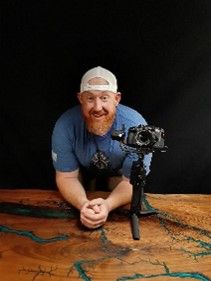 Meet Red, An 8-year decorated & professional honorably discharged NCO Staff Sergeant of the U.S. Army
War Eagle Garage (WEG) has provided me with an opportunity to Charlie Mike; continue my mission. You see like most vets when I was entering my Expiration of Term of Service (ETS) out of the military it was not only extremely exciting to be free again but as I would soon find out it would also be nerve racking not knowing the uncertainly of what lies ahead or what my next mission in life would be without my brothers. This, mixed with having to count on my own discipline to keep my drive alive so I wouldn't fall victim to the array of things that veterans unfortunately fall into. . . PTSD, mental health issues, problematic alcohol use, or just even be another statistic, added to the number of military suicides each day.
So, as I sat in a hyper vigilant state of mind, I reminisced about my war days, IEDs, gun fights, blood & deaths and just the overall carnage of war and I had the urge to apply my military skill sets and shoot something. I picked it up and looked at it for a while thinking what to shoot? People? Animals, or maybe myself? Or do I just go out on a drive and start finding things. I stopped. With one hand I raised it to my head looking straight on at it, ready to shoot. I steadied my breath, slowing it down just how I was taught. I squinted my eyes gaining focus on my target. I brought up my second hand to stabilize and minimize the miner swaying of the back & forth to steady my aim. Not like it really mattered because I was just going to shoot myself and I didn't care. Next was trigger control and follow though, all the element of a perfect shot. I slowly squeezed and laid off a shot. Boom!
I had done it and to my surprise it wasn't the most horrible shot. I did it again and then towards my dog and then run outside sliding into a kneeling position before going full prone as I laid in the grass firing away. I continued shooting until I finally stopped when I noticed my neighbors were watching and asked if I could shoot them. They were more than thrilled and replied with of course!
I had finally done it I had gone full circle, not postal. From my war days of shooting tanks, Mk 19 grenade launcher, 50 cals, and even a freaking gatling gun to now, shooting epic shots with cameras at over 1000 frame per second, flying drones, stunning photography, and all while continue my mission as the professional shooter: from guns to cameras.
Working with WEG has provided me with this opportunity to continue shooting and expanded my skills. WEG is also so much more than just a motorsports program. WEG is looking to expand and with that their story & mission as well. I love filming & creating content and WEG provides that. In doing so I have been able to apply my military skill set back to life, while working with other veterans on a mission with the same goal in mind. So let WEG help you find your next mission in life.
– Charlie Mike!
Make A Donation Today
MAKE A CONTRIBUTION TO HELPING LOCAL VETERANS #WINLIFE
War Eagle Garage is one of the most dynamic veterans' organizations in Northern Colorado. We provide veterans with the opportunity to participate in a variety of skill sets on our race team at no cost to the veterans that participate. This wouldn't be possible without the aid of our generous community!
Funds will be used to fund the mission of the War Eagle Garage: to enhance and improve the quality of life for our local veterans in Northern Colorado through a motorsports program. We strive to link veterans to resources for healthcare, education, and employment opportunities. Additionally, we aim to aid veterans in any physical, mental, or financial challenges they may be facing.
Additionally, the War Eagle Garage uses funds to support veterans and their families in other ways -such as meeting unmet auto repair financial needs via the (VVA)Veteran Vehicle Assistance fund and giving to other veterans organizations.
Make an Impact by donating, fundraising, or spreading the word, you can help our local veterans get back on track and become a positive force in our communities in Northern Colorado.
War Eagle Garage
1001A East Harmony Rd.#202
Fort Collins, Colorado 80525
WarEagleGarage@gmail.com
EIN# 83-0999203